Course Details
'By 2018, there will be a shortage of 1.5 million analysts/managers who can make data-driven decisions', - McKinsey Global Institute's report on Big Data
In today's competitive environment, the companies are looking for ways and means for outdoing others to retain and increase their businesse. Analytics, which had been playing a significant role in this respect and been providing a competitive edge to its practitioners, is almost on the verge of becoming an essential ingredients of the business processes of large and medium sized organizations. With the advent of Big Data technologies, which have made storage and processing of large and complex data possible with comparative ease, has opened a whole new set of opportunities for application of analytics and have revolutionized the ways the business was being done.
This makes it essential for every business or IT manager to equip themselves appropriately and learn to bring versatility to their business with prudent application of analytics. This is becoming a challenge for many to remain in the business and also for those seeking higher role within or outside their organisation. 
After completing the course successfully, the participants will have the following.
- A strong fundamental concept of data science and business analytics landscape
- Will know popular business analytics methods and their usage in various scenarios
- Will be able to effectively & proactively manage Customer Relationship, Increase 
- Customer Value, Marketing & Campaign management, Risk Management,
  Fraud Detection, Customer Retention etc.
- Will be able to implement business analytics in their respective areas of business with
  better understanding of its benefits and possible pitfalls. 
- Will be able to get a better insight into their business and be able to take better
  operational, tactical and strategic decisions
Students who earn a certificate in Business Analytics would develop deep quantitative capabilities and technical expertise due to creative business and social value by extracting useful insights and applying them in a variety of career settings.
Business analytics is the science of translating vast amounts of complex data into clear, manageable information used to make sound decisions. The technique of business analytics borrows from a variety of fields, including:
- Operations research
- Statistics
- Information systems
- Machine learning and computer science
Business Analytics course provides study of organizational decision-making process under dynamic global business environment. The program integrates knowledge of applied mathematics using quantitative techniques and computer techniques to optimize decision-making in business.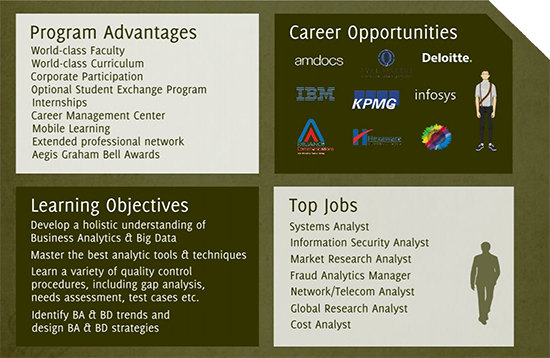 This course is designed to meet the needs of working professionals. This highly intense and competitive course offers students the opportunity to work on data sets arranged with corporate and faculty support.
Program Structure:
Graduate Certificate Course
Course Outline:
- An overview of Business Analytics (BA) and related concepts
- Business Analytics and Data Mining
- Applications of Business Analytics
- Elementary Statistics
- Predictive Modelling
- Decision Trees
- Market Basket Analysis and Association Rules
- Cluster Analysis
- Introduction to other advanced concepts
- Putting Business Analytics to Work
Business Analytics & Big Data Course Curriculum
Students who enroll for Graduate Certificate Course in Business Analytics & Big Data typically can choose to study any five courses from the Term I course list.
Aegis Business Analytics & Big Data Programs' Framework
The Programs' Framework offers students the flexibility to build their own curriculum and choose a direction in Technology, Management, or Techno-Management.
Each Course is of 1.5 to 3 Credit Units.
Program Structure & Delivery
Eligibility Criteria
- Graduates in BE /BTech/BSc (Maths, IT/CS), BCA, Msc, MA, MCA
 Download Aegis Business Analytics and Big Data Brochure
Talk to us and explore how Aegis can help you take your career to Business Analytics and Big Data.
Aegis School of Business and Telecommunication
|Cell +91 9819008153 / 9022137010| Email: admission@aegis.edu.in or admission@aegisedu.org|www.aegis.edu.in|